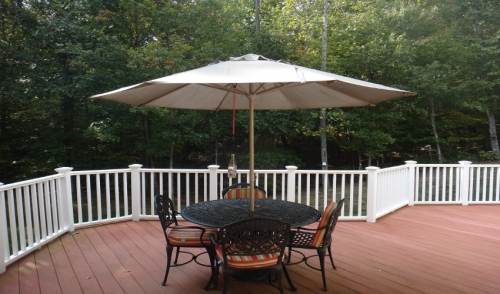 Adding Value to Your Home With a Finished Deck
Are you looking to maximize your home's value and add useful outdoor living space? If you are, you should consider installing a new deck. Creating outdoor space in a home when preparing to sell creates an appealing new gathering area in which potential buyers can envision themselves relaxing or hosting get-togethers where they can entertain guests. According to SFGate, adding a deck to a home offers a 76 percent return on investment when selling.
Benefits of Installing a New Deck
By installing a new deck, home sellers can significantly increase the value of their home, as well as the interest that home buyers show in it. This can make their home sell for a higher value and spend less time on the market before it's sold. Some of the many benefits of installing a new deck include:
Attracting younger buyers.
Maximizing buyer interest in the home.
Increasing usable exterior square footage of the home.
A great return on investment (ROI).
Decreased time on the market.
Better home resale value.
Adding a New Deck to Your Existing Home for Maximum Sales Potential
Maximizing the resale value of your home means choosing the right renovations and upgrades after you've performed all the needed maintenance on your home. One upgrade that can maximize ROI and increase your immediate usable exterior square footage is the addition of a deck.
Installing a new, low-maintenance deck offers a great return on investment, and it can help attract younger buyers to your home, including Millennials. This is because younger home buyers are often looking for great outdoor spaces where they can grill, hang out and enjoy the outdoors without undertaking a lot of yard or deck maintenance that could eat into their recreational time.
When you install a low-maintenance deck on your home that includes space for an outdoor seating area, a grill and a fire pit, you are helping to increase the interest in your home, attract more foot traffic during open houses and potentially decreasing the time your home spends on the market, according to Consumer Reports.
Cost to Build a New Deck
Building a new deck is extremely affordable when compared to building a home addition. According to House Logic, it costs between $80 to $200 per square foot to build a room addition onto an existing home with the average cost ranging between $21,034 and $63,687.
By contrast, building a deck costs about $35 a square foot, which is a maximum savings of $165 per square foot. With the average deck measuring between 200 and 500 square feet, you can expect to spend a maximum of $11,139 on the construction of your deck, according to House Logic, which will save you a maximum of $52,548 on your renovation costs when compared to building a new room.
Your New Deck's Return on Investment (ROI)
Building a new deck is one of the most financially sound decisions you can make as far as maximizing your return on investment (ROI). The average deck addition offers a return of between .76 cents and .81 cents on the dollar. This means that if you spend $11,000 on your deck addition, you can expect a return of about $8,910 when you sell your home.
By contrast, a bathroom renovation, for example, will return about 64.8 percent of the investment, and a major kitchen remodel will return about 65.3 percent of the investment.
Finalizing the Decision to Install a New Deck
Once you've decided to maximize your home's resale value and add usable square footage to the exterior of your home, make sure to hire a professional deck installer by reviewing their credentials, and conducting phone and in-person interviews. Once you have all your estimates, choose the decking installer that best meets your home improvement needs.
Author: Kris Lindahl